At Page Provan, we have a reputation for being the leaders in our respective disciplines of family and fertility law. Accordingly, we regularly convene joint webinars with other leading experts on a diverse range of topics.
All our webinars are free to watch.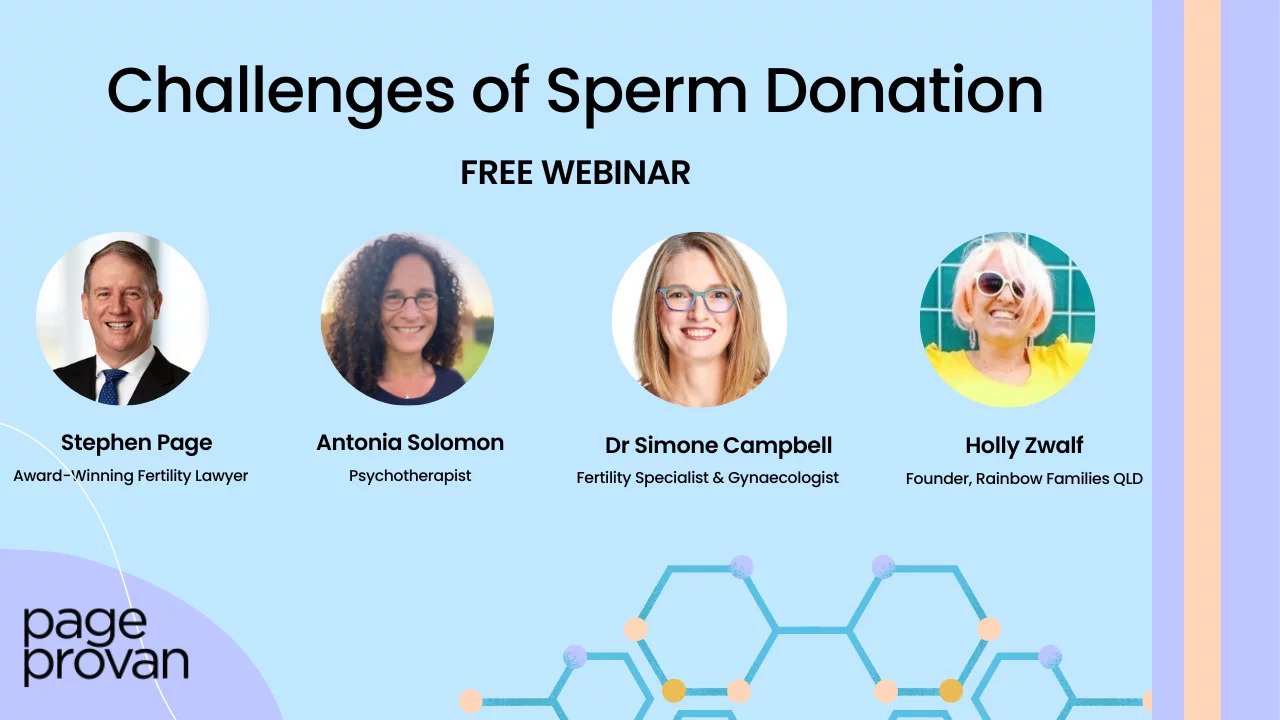 Challenges of Sperm Donation
Join Page Provan Director Stephen Page, Fertility Specialist & Gynaecologist Dr Simone Campbell, Psychotherapist Antonia Solomon, and Rainbow Families QLD Founder Holly Zwalf as they talk about the challenges of sperm donation.
Mediations in Property Matters
"Mediations in Property Matters" with Stephen Page and Rob Grant. Rob Grant is a nationally accredited mediator and approved family dispute resolution provider which enables him to issue Section 60I Certificates. He is a family law specialist within excess of 35 years' experience.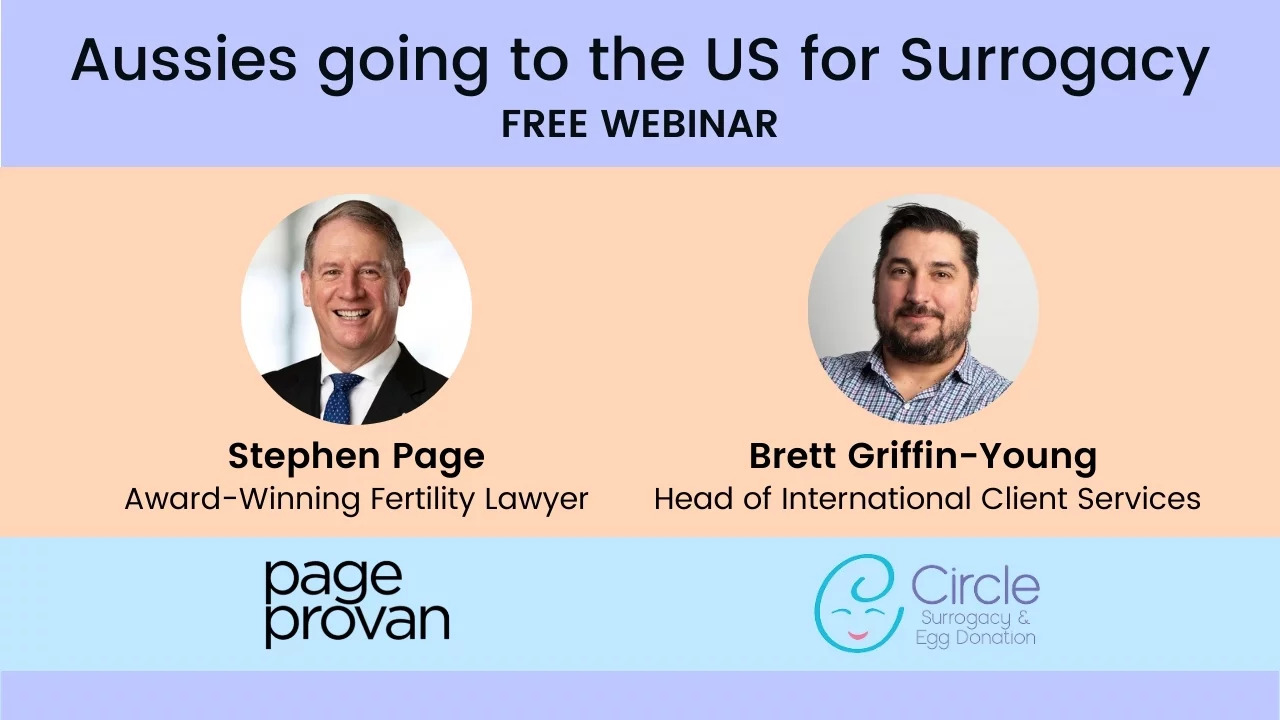 Aussies Going to the US for Surrogacy
Join dads through surrogacy – multi-award winning surrogacy lawyer, Stephen Page, and Brett Griffin-Young, who holds more than 11 years of experience in the area of surrogacy, as they discuss what you need to know about considering surrogacy in the United States.
Intended Parents in Ukraine Considering Greece
With the Russian invasion of Ukraine, many intended parents have considered going somewhere else instead of Ukraine. Greece is an overlooked destination that Australian intended parents are now discovering.
Aussies Going to Canada for Surrogacy
Join Multi-Award Winning Surrogacy Lawyer, Stephen Page and Ellen K. Embury who is Western Canada's leading practitioner in the area of surrogacy and fertility law, as they discuss what you need to know about considering surrogacy in Canada.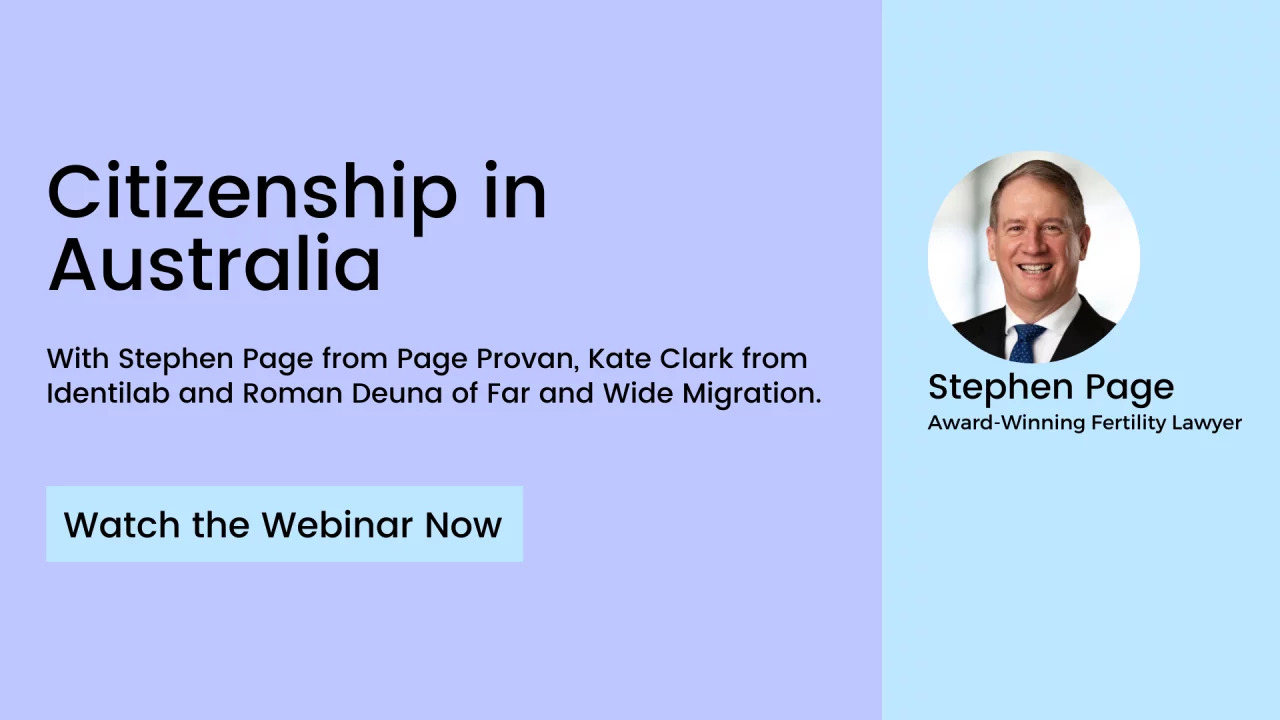 Citizenship in Australia
In this webinar, Stephen Page from Page Provan, Kate Clark from Identilab and Roman Deauna of Far and Wide Migration discuss citizenship in Australia.
Surrogacy in New South Wales
Join Stephen Page, fertility specialist Dr Devora Lieberman and fertility counsellor Miranda Montrone who will be speaking in a free webinar about surrogacy in NSW, to cover the ins and outs of surrogacy in NSW- how to do it, technical medical and legal issues, how to make your journey a better one, and what to avoid.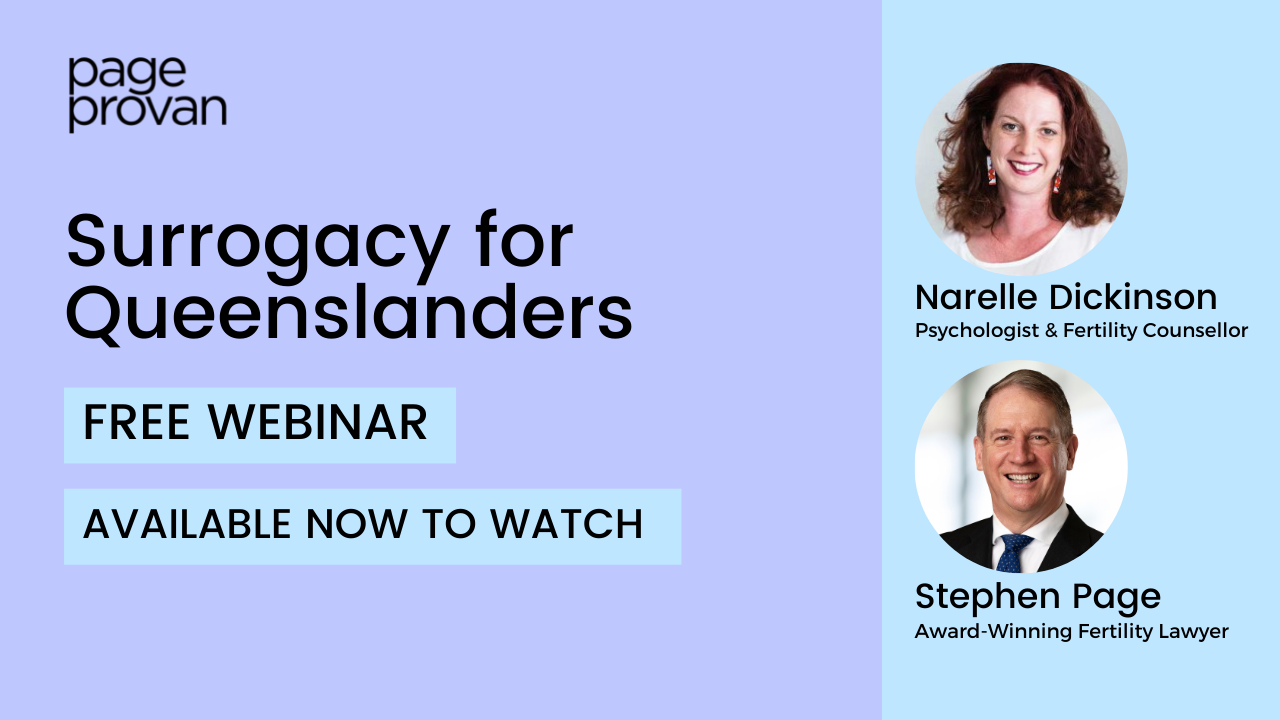 Surrogacy for Queenslanders
Surrogacy for Queenslanders has many steps. Hear from two experts, Narelle Dickinson and Stephen Page about how to become parents as quickly, smoothly and cheaply as possible.
Surrogacy in USA for Australians
Three leading experts with a wealth of experience will talk about the process of how to become parents via surrogacy and egg donation in the United States, including covering legal and practical traps.
Surrogacy in Canada for Intended Australian Parents
Many Australian intended parents go to Canada for their surrogacy journeys.